Equities
NGSE Index Sustains Rebound On Strong Buying Pressure, As Investors Wait To Confirm Recovery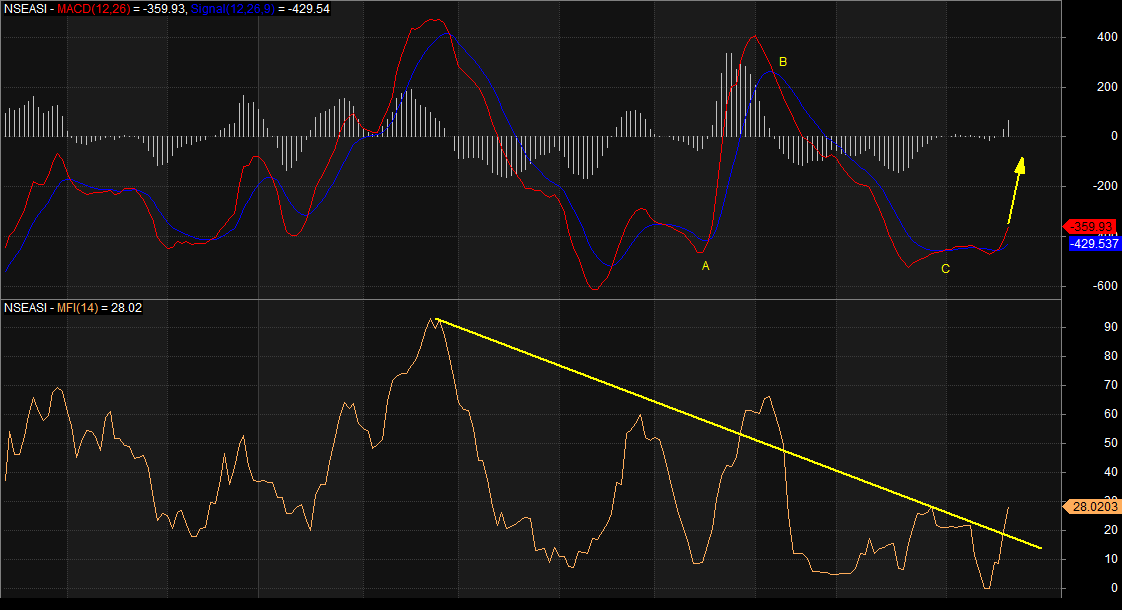 Market Update for August 22
Trading on the Nigerian Stock Exchange (NSE) was positive for the third consecutive session on Thursday, although it remained mixed and volatile, closing higher on the back of demand for highly capitalized stocks to sustain the previous day rebound.
This consolidation of the composite index in the last few days reveals the importance of governance, policy-making and economic direction to investor confidence, notwithstanding the fact that the government is yet to roll out the much anticipated 'next level' new policies to complement activities in the first term.
Minister of Finance, Budget and Economic Planning, Mrs. Zainab Ahmed, on Thursday, said the Federal Government is retaining its Economic Recovery Growth Plan (ERGP) agenda (READ MORE). We, however, would have expected that the agenda be reviewed to infuse economic development stimulating and sustaining policies, especially at this time the new ministers are settling down to articulate policies around their various portfolios. We believe also that the nation, more than ever before is in dire need of policies that will transform Nigeria's sociopolitical economy and in the process drive the growth of Nigeria's GDP.
The inauguration and assigning of portfolios to the ministers by President Muhammadu Buhari must have triggered Thursday's buying interests again despite all the delays that led to the free fall of equity prices due to the uncertain economic directions.
The newly constituted Federal Executive Council is expected to start meeting to address issues around the economy, including insecurity, power, education, healthcare, and infrastructure, among others. Nigeria needs a roadmap that comes with strategies on how to get things done, and specific delivery time, which must be constantly reviewed to sustain effective implementation and thereby achieve the predetermined goals.
Meanwhile, Thursday's trading opened on the upside in the morning, which was sustained till mid-afternoon on the strength of buying interest in stocks that had suffered huge losses before now. These included high cap and interim dividend-paying stocks, a situation which lifted the NSE All-Share index to an intraday high of 27,650.89 basis points, from a low of 27,352.94ps, before pulling back in the last few trading minutes, when it closed the session at 27,629.66bps.
Thursday's market technicals were positive and mixed as volume traded was lower than the previous day's, in the midst of that breadth that favoured the bull in a strong buying pressure, as revealed by Investdata's Daily Sentiment Report, showing 'buy' volume at 93% and sell position of 7% on total daily transaction volume index of 1.30.
The impetus behind the day's performance remained weak, despite moving up as Money Flow Index read 28.02 points up from the previous session's 19.45bps, an indication that funds enter the market and some stocks in the face of low liquidity despite the increasing buying interest.
Index and Market Cap
The benchmark Index at the end of trading increased by 276.72bps, closing at 27,629.66 bps, after opening at 27,352.94bps, representing a 1.01% growth, just as market capitalization gained N134.6bn to close at N13.44tr, from an opening value of N13.31tr, representing 1.01% appreciation in value gain.
NSE Daily Time Frame
The index recent action shows positive momentum and rebound that is yet to be confirmed until Friday, which will be the fourth consecutive days of an uptrend with records of 2% or more growth to usher in recovery.
Full rebound in a bearish trend is when the benchmark index breaks out the yellow box at 27,808.69 and the second resistance level of 28,294.80bps to confirm a real rebound or recovery.
Consequently, we advise that traders and investors take the stage by stage position in stocks selling at a discount while maintaining a cautious outlook.
Attention: If you have not signed up for Investdata buy and sell signal setup, don't delay. We have just added another risk management feature and new stocks of most revered traders and investors in corporate Nigeria to our watchlist. These stocks are with double potentials. To become a member, send 'YES' or 'STOCKS' to the phone numbers below. Take advantage of this service to buy right and sell right during this post Q2 earnings reports portfolio reshuffling and repositioning ahead of fiscal and monetary policy catalysts.
Upturn for the session was driven by position taking in low, medium and high cap stocks like Dangote Cement, MTN Nigeria, Nestle, Guaranty Trust Bank, Zenith Bank, NB, UBA, CCNN, Access Bank ETI, Cadbury and Eterna among others. This impacted positively on the NSE's Year-to-Date loss, which reduced to 12.09%, just as YTD market capitalization gain climbed to N1.72tr or 14.68% from the year's opening level of N11.72tr.
Bullish Sector Indices
All sectoral performance indexes closed green, except for the NSE Oil/Gas that closed in red losing 0.31%, while the NSE Banking led the advancers, after gaining 2.54%, followed by the Consumer Goods index with 0.81%, while Industrial Goods and Insurance index notched 0.70% and 0.56% respectively.
Market breadth remained positive as advancers outnumbered decliners in the ratio of 22:13; but market traded volume and value were down by 25.19% and 0.40% respectively at 272.6m shares worth N4.5bn, from the previous day's 363.97m units valued at N4.52bn. Volume for the day was driven by trades in financial services and conglomerates stocks like Zenith Bank, Guaranty Trust Bank, Transcorp, Flour Mills, and Ecobank Transnational Incorporated.
The best-performing stocks for the session were Eterna and Ecobank Transnational Incorporated that topped the advancers' chart, after gaining 10% and 9.49% respectively, to close at N2.75 and N7.50 per share on low price attractions and market forces. On the flip side, University Press and NCR lost 10% each to close at N1.44 and N4.95 on market forces and profit-taking.
Market Outlook
Being the last trading day a positive week, we expect a mixed performance to continue in the midst of profit-taking and expected recovery, looking at the high volume traded that is above-market average on a strong buying pressure. Speculators taking advantage of the seeming improvement in economic indices released recently, as well as the corporate earnings that revealed the true position of listed companies.
Also, long-term investors are reshuffling their portfolios in expectation of interim earnings reports of dividend-paying companies.
The rebound of the NSE is yet to be confirmed, despite the positive outing at midweek, with the swearing-in of the ministers expect a more speculative move by market players that will be taking a new position, especially the stocks that are selling at a discount.
Discerning investors should target value stocks considering the current low valuation as they position for dividend income and capital gains, especially as the market's Price to Earnings ratio remains attractive at 5.45x, which is well below the 8.24x average of its peers and its 9.56x five-year average. The current situation has revealed the existence of value and the high upside potentials for a rally. But then, wait to confirm reversal before jumping into a new position.
Investors should also take into consideration the expected economic reforms as President Buhari has assigned portfolio to the ministers. Central Bank of Nigeria (CBN) had earlier rolled out plans to boost productivity and investment by instructing the banks to lend more to the private sector. This is aimed at reducing banks' participation in government securities and lending more to the private sector to drive economic growth.
There is also the likely impact of portfolio repositioning for the last quarter of the year ahead of Q3 financials in the midst of analyzing Q2 numbers and unfolding political events.
Take Action
The difference between you and others who are not aware of what I am sharing with you is ACTION. Take action that will transform your life throughout 2019 and beyond by getting the just concluded and life-transforming INVEST 2019 TRADERS & INVESTORS SUCCESS SUMMIT, CHART SUMMIT, and POST ELECTION BULLS & BEARS Home study pack (USB) that you can play on your phone, Laptop and Television set.
The events were a successful, insightful and educative outing that not only offered direction as to where investors should look for profitable trade in 2019 and beyond, insight into industries, sectors, and companies to seek worthwhile returns. What stocks should you buy? Grab the pack for the 10 Golden Stocks with the possibility of offering in 2019 multiples of what broader stocks do, coming out of this market correction environment.
Don't sit on the Fence call or text Stock to 08028164085, 08032055467, 08111811223 now.
Ambrose Omordion
CRO|Investdata Consulting Ltd
info@investdataonline.com
info@investdata.com.ng
ambrose.o@investdataonline.com
ambroseconsultants@yahoo.com
Tel: 08028164085, 08032055467