NGX Recovery On Santa Claus Rally, Realignments, Ahead Year End, Election Uncertainties
In any economic cycle and market phase, traders and discerning investors make money by effectively combining technical and fundamental analyses.
Technical analysis is not just a method of analyzing market actions, but the foundation from which it works. It is about seeing cyclical patterns and understanding that there is an order in them amidst what might otherwise seem confusing and chaotic.
Once you can understand the motivations of patterns and anticipate what might occur next, you will see that even when conditions are changing, there is still a cyclical movement of capital through the market.
The market is not random, there are consistent psychological motivations of humans at play, just as there are consistent patterns in the market structure which I show and teach on daily and weekly basis to fellow traders and investors who want to improve their trading results and protect their wealth.
And to take things one step further, the 2023 strategic Q1 master class for exactly 91-day trading solutions with Ambrose on January 2, will provide the right stocks to buy ahead of NGX historical peak of earnings reporting season and corporate actions.  Below are market, sectoral and individual stocks patterns or actions to watch.
NGXASI DAILY
NGXASI WEEKLY (Opening chart)
NGXBNK DAILY CHART
NGXINDUSTRIAL WEEKLY CHART
NGXOIL/GAS WEEKLY
NGX CONSUMER GOODS WEEKLY
NGXINSURANCE WEEKLY
ACCESSCORP
ZENITH BANK
GTCO
UBA
FBNH
ETI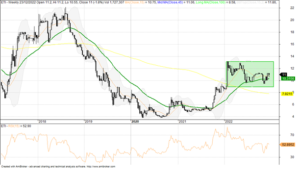 STANBIC IBTC
FIDELITY BANK