Equities
Stanbic IBTC, UCap, Buoy NSE Volume, As Top-10 Brokers Trade 46.9% Of 2018 Volume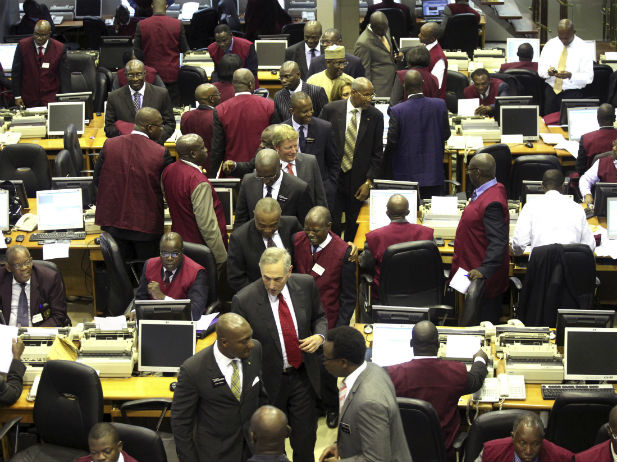 Transactions on the Nigerian Stock Exchange (NSE) closed for the year 2018, with almost same set of stockbrokers dominating the top-10 league in terms of volume value terms for 2017 and 2018.
The top 10 stockbrokers accounted for 95.158bn shares traded between January 2 and December 31, 2018, or 46.9% of total volume for the period, down from 107.042bn units or 53.24% exchanged from January 2 to December 29, 2017.
While Stanbic IBTC Stockbrokers traded the most shares in 2018, overtaking United Capital Securities, which occupied the prime position in 2017.
According to the data by the NSE, Stanbic IBTC Stockbrokers took the lead, accounting for 17.002bn units, or 8.38% of the year's total volume; an increase from 15.375bn in 2017; ahead of United Capital Securities came second with 14.625bn shares, or 7.21%; a significant decline from 30.392bn shares or 15.12% of total, a year earlier.
CSL Stockbrokers Limited retained third position for the second year with 14.281bn units or 7.04%; as against 12.87bn units or 6.4%; CardinalStone Securities Limited traded 10.824bn units or 5.34%; up from 5.695bn units or 2.83% in 2017; Rencap Securities, 9.143bn shares, or 4.51%; which was slightly lower than 9.695bn units, or 4.82%, which ranked it fourth.
Apel Asset Limited, which was unranked in 2017, followed, trading 6.231bn shares, or 3.07%; ahead of Morgan Capital Securities Limited exchanged 6.154bn units on behalf of clients, representing 3.03%; just as EFCP followed with 5.924bn shares, or 2.92%; FBNQuest Securities, 5.881bn units, or 2.9%, as against 5.662bn or 2.82% in 2017; and Meristem Stockbrokers, 5.079bn or 2.5%, down from the 6.978bn units or 3.47%.
In terms of transaction value, during 12-month ended December 31, 2018, the top-10 stockbrokers accounted for N1.633tr, representing 67.89% of total for the period, which was less than the N1.915tr, or 75.23% of total recorded in the corresponding period of 2017.
Stanbic IBTC also took the lead, accounting for N466.537bn, or 19.38%, as against the N403.491bn, or 15.85% which also earned it the first position in the prior year; ahead of Rencap Securities with N290.447bn, or 12.07%, an improvement from its fourth position in 2017 when it recorded N234.642bn, or 9.22%. CSL Strockbrokers retained its third position with N238.865bn, representing 9.92% of total, compared to N312.789bn, or 12.29% in 2017; EFCP placed fourth with N218.841bn, or 9.09%, improving from eighth in 2017 when it crossed shares valued at N84.392bn, or 3.32%. FBNQuest Securities followed with N123.793bn, or 5.14%, as against its sixth place in 2017 when it crossed shares worth N89.159bn; Chapelhill Denham Securities ranked sixth position with N85.471bn, or 3.55%, up from its 10th position in 2017 after it helped clients to cross shares valued at N66.876bn. Cardinalstone traded N57.656bn worth shares, or 2.4%; Cordros Securities was next with N55.266bn or 2.3%, compared to N218.409bn, or 8.58% in prior year; United Capital was on number nine with N45.197bn, or 2.16%, same position as in 2017 when it crossed N81.96bn or 2.63% of total value for the year; while Primera Africa Securities, N45.197bn, or 1.88%.