Negative Sentiments Still, As NGSE Index Tests New Support, Await Trigger To Reverse Trend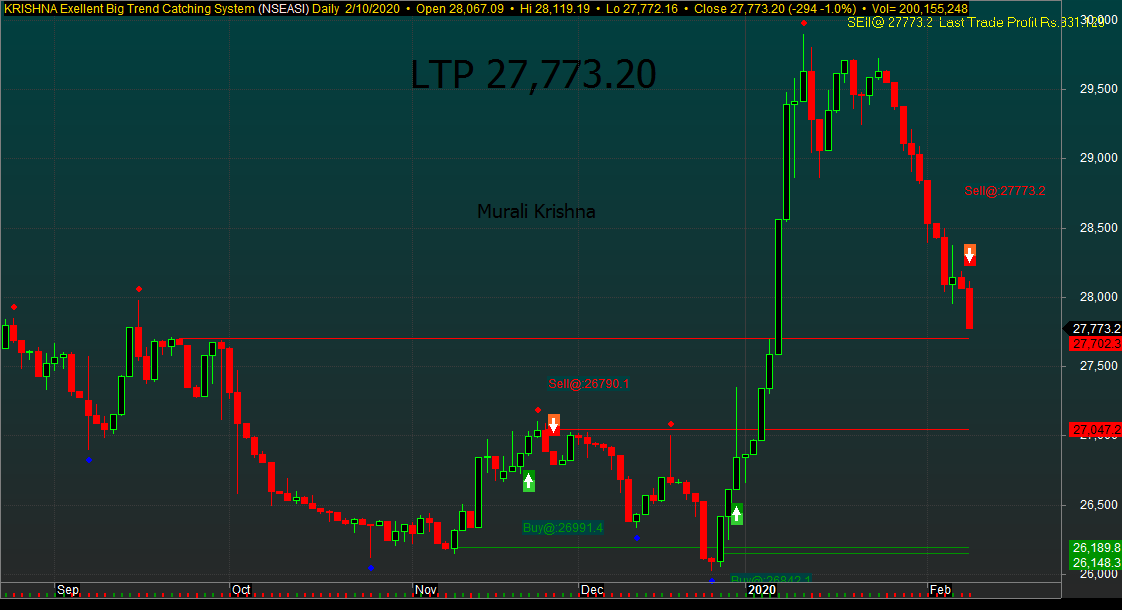 Market Update for February 10
Nigeria's stock market extended its bull trap on Monday with the composite All-Share Index declining further in the midst of mixed earnings reporting season and profit-taking that hit highly capitalized stocks resulting in 14 sessions of decline in the New Year, which almost wiped out another 14 sessions of gains in 2020, leaving investors confused.
The news of coronavirus resurgence, claiming the highest number of lives in one day has heightened outflow pressure in emerging and frontier markets like Nigeria, just as global trade and oil prices fell further.
Technically, the candlestick formation at the end of Monday's trading session revealed a negative sentiment, which has broken down the 28,000 psychological line to test a new support level of 27,772.16 basis points while awaiting a trigger to reverse the trend. Going by the strongly bearish stand, it can easily be assumed that the said support level will be fully challenged by the bears when the market opens for Tuesday's trading.
Nevertheless, it should be noted that the current bear-run in the market has dragged several blue-chip prices to an attractive point. On the strength of this, we recommend that traders take advantage of such low prices.
Meanwhile, Monday's trading started on the upside into the mid-morning before it was short-lived between the midday to the afternoon on profit-taking in high cap stocks that pushed the NSEASI to intraday low of 27,772.16bps, from its high of 28,119.19bps. It thereafter adjusted up slightly to finish the session lower at 27,773.16bps.
Market technicals were negative and mixed, with lower volume traded than the previous session's in the midst of flat market breadth and negative sentiment as revealed by Investdata's Sentiment Report showing 100% 'sell' volume and 0% 'buy' position. The total transaction volume index stood at 0.56, while the momentum behind the day's performance was seriously weak, as Money Flow Index inched up to 9.94 points from the previous day 9.72points, indicating that funds enter the market but left some stocks.
Index and Market Caps
At the close of Monday's trading, the benchmark index lost 294.90bps, closing at 27.773.16bps from its 28.067.09bps opening, representing 1.05% decline, just as market capitalization shed N153.6bn, closing at N14.46tr, from the N14.52tr it opened, which also represented a 1.05% value loss.
Attention: If you have not signed up for Investdata buy and sell signal setup, don't delay. We have just added another risk management feature and new stocks of most revered traders and investors in corporate Nigeria to our watchlist. These stocks are with double potentials.
To become a member, send 'YES' or 'STOCKS' to the phone numbers below. Take advantage of this service to buy right and sell right at the current market recovery ahead of full-year earnings reporting season portfolio reshuffling and repositioning as we await an economic reform policy to stimulate and re-track the economy again.
Monday's downturn was driven by profit-taking and selloffs in Nestle Nigeria, MTNN, Guaranty Trust Bank, FBNH, UBA, Access Bank, Lafarge Africa, Oando, and Honeywell, among others, which impacted negatively on the NSE's Year-To-Date gain, reducing it to 3.47%. Market capitalization, YTD, gain dropped to N1.51tr, representing 11.62% growth over the year's opening value.
Mixed Sector Indices
The sectoral performance indexes were largely bearish, except for the NSE Insurance and Industrial Goods Indexes that closed 0.86% and 0.76% higher respectively, while the NSE Consumer Goods led the decliners after shedding all of 4.72%, followed by Oil/Gas and Banking with 0.55% and 0.54% respectively.
Market breadth was at par as advancers equaled decliners in the ratio of 17:17, while market activities in volume and value traded fell by 34.14% and 69.89% respectively to 200.16m shares worth N1.92bn, from the previous day's 303.93m units valued at N6.39bn. Volume was driven by transactions in FBNH, Transcorp, Zenith Bank, UACN and Fidelity Bank. Also, the share price of Vitafoam was adjusted for the 42 kobo dividend declared by its board.
Sovereign Trust Insurance and Transnationwide Express were the best-performing stocks of the session, gaining 10% and 9.88%, closing at N0.22 and N0.89 per share, on the strength of the ongoing recapitalization exercise in the industry, and market forces. On the flip side, Nestle Nigeria and Linkage Assurance lost 10% and 9.68% respectively, closing at N1, 242.00 and N0.56 on selloffs and profit-taking.
Market Outlook
We expect a slowdown in losing momentum which will usher in reversal, despite the likely continuation of the mixed intraday movement in the midst of profit-taking, with investors buying in the dip ahead of dividend news. This is also against the backdrop of the fact that capital wave in the financial market may persist in the midst of the unstable economic outlook for 2020.
Also, investors and traders are positioning in anticipation of the 2019 full-year earnings reports, amidst the changing sentiments in the hope of improved liquidity and positive economic indices which may reverse the current trend.
We see investors focusing on the upcoming full-year earnings season, targeting companies with strong potential to grow their dividend on the strength of their earnings capacity.
Again, the current undervalued state of the market offers investors opportunities to position for the short, medium and long-term, which is why investors should target fundamentally sound, and dividend-paying stocks for possible capital appreciation in the New Year.
This was noted in the 10 golden stocks and trading ideas for 2020, as discussed extensively during the Investdata 2020 Traders & Investors Summit held in Lagos last December.
Also, traders and investors need to change their strategies, because of the NSE's pricing methodology, the CBN directives and their impact on the economy in the nearest future.
Meanwhile, the Investdata team welcomes you to a bullish 2020. The home study packs of our Invest 2020 Opportunities and Trade Ideas Summit, containing the 10 Golden Stocks for 2020 are available. To obtain your pack send 'Yes' or 'Stock' to 08028164085, 08032055467, 08111811223 now.
Ambrose Omordion
CRO|Investdata Consulting Ltd
info@investdataonline.com
info@investdata.com.ng
ambrose.o@investdataonline.com
ambroseconsultants@yahoo.com
Tel: 08028164085, 08032055467