NGSE Set To Breakout Recent Resistance Level On Positive Money Flow Index of 64.63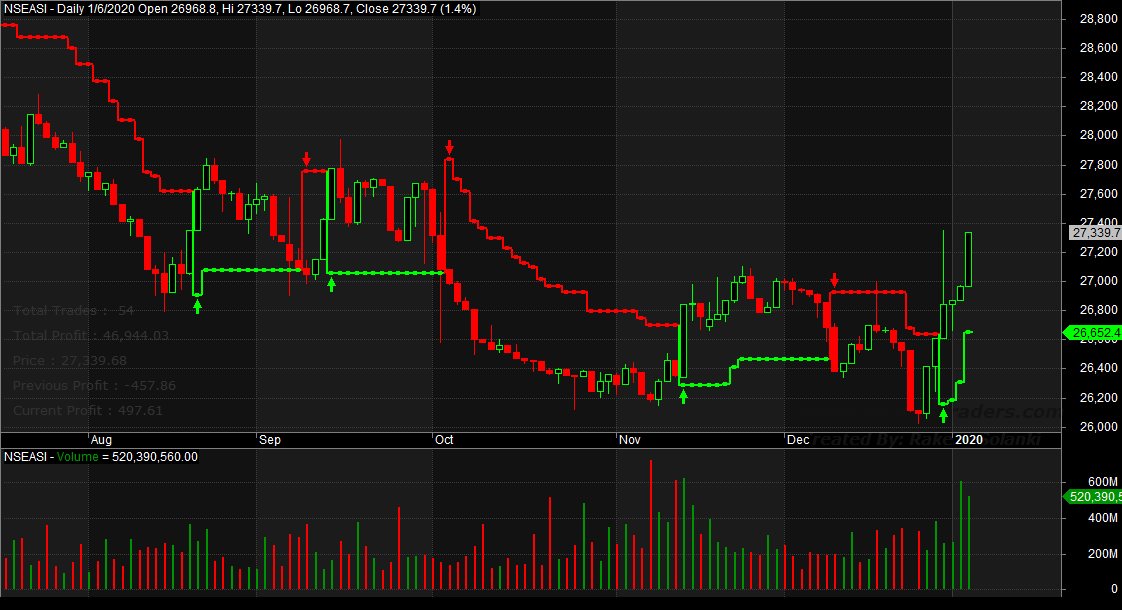 Market Update for January 6
The leading sentiments on the Nigerian Stock Exchange remained bullish on Monday to begin the first full trading week of 2020 on a positive note, as the benchmark index closed higher to extend the bull transition for five consecutive sessions on a continued capital wave in the financial market. Local institutional investors and fund managers are settling down to reposition their portfolios ahead of the 2019 full-year earnings reporting season in expectations of positive economic performance resulting from the unconventional monetary policies and fiscal authorities' measures. This is in addition to the crashing rates in the money market and fixed income instruments.
The ongoing conflict between the US, Iraq, and Iran has fueled commodity prices in the international market, including oil which trades above $70 per barrel on Monday, which is gladdening for the Nigerian economy. The rising oil price is likely to boost our reserve, while at the same time increasing the amount of government would commit to the controversial subsidy on the import of premium motor spirit, otherwise called petrol. It had earlier been reportedly removed when the pump rise of fuel was raised from N87 to the current price of N145 per litre.  For the nation's investment environment, the expected rebound in Nigeria's foreign reserves on the strength of the rising oil price is capable of attracting foreign direct investment inflow, especially with the Central Bank of Nigeria's Monetary Policy Rate remaining at 13.5%, considering the prevailing low rates in the US, EU, and other countries.
Meanwhile, Monday's trading started on gap up in the morning which was sustained throughout the day on strong buying sentiments that pushed the benchmark NSE All-Share index to an intraday high of 27,339.68 basis points, from its low of 26,968.68bps. It, therefore, maintained the recovery mode on the exchange, closing the session higher at 27,339.68 points on a high traded volume.
Market technicals for the session were positive and strong, even as volume traded was slightly lower than the previous session, in the midst of positive market breadth and strong buying interest as revealed by Investdata's Sentiment Report of 100% 'buy' volume and 0% sell position. The day's total transaction volume index stood at 2.06, with momentum behind the day's performance looking up, just as Money Flow Index read 64.63 points, from the previous 62.71bps. This is an indication that funds entered some stocks and the general market.
Index and Market Caps
The NSEASI at the end of trading gained 379.89bps, closing at 27,339.68bps from the 26,968.68bps, representing 1.39% growth, just as market capitalization climbed N179.06bn up at N13.2tr, from an opening value of N13.03tr, which also represented a 1.39%  value gain.
Attention: If you have not signed up for Investdata buy and sell signal setup, don't delay. We have just added another risk management feature and new stocks of most revered traders and investors in corporate Nigeria to our watchlist. These stocks are with double potentials.
To become a member, send 'YES' or 'STOCKS' to the phone numbers below. Take advantage of this service to buy right and sell right at the current market recovery ahead of full-year earnings reporting season portfolio reshuffling and repositioning as we await an economic reform policy to stimulate and re-track the economy again.
Monday's upturn was impacted by the demand for low, medium and high cap stocks like  Dangote Cement, Guaranty Trust Bank, Zenith Bank, FBNH, UBA, Access Banks, Flourmills, FCMB, Dangote Sugar and among others, all of which impacted positive on the NSE's Year-to-Date gain, rising to 1.85%. Market capitalization YTD also stood at N240.23bn, representing a 1.85% growth over the year's opening value.
Bullish Sector Indices
All sectoral performance indices closed in green, as the NSE Banking index led the advancers, after gaining  3.90%; followed by the Industrial Goods Index's 1.60%, while the NSE Insurance, Consumer Goods and Oil/Gas climbed 0.82%,, 0.47% and 0.42% up respectively.
Market breadth remained positive as advancers outpaced decliners in the ratio of 30:13, while market activities stayed mixed with volume traded dropping by 14.52% to 520.43m shares, from the previous 608.86m units. Transaction value climbed 42.260% up to N5.35bn, from the previous day's N3.76bn. The day's volume was driven by Zenith Bank, Universal Insurance, UBA, FCMB and FBNH.
The day's best-performing stocks were FCMB and Cornerstone Insurance, as they chalked 10% and 9.43% to close at N2.09 and N0.58 respectively, on low price attraction and market forces. On the flip side, PZ and Niger Insurance lost 9.73% and 9.09% respectively, closing at N5.10 and N0.20 on selloffs and profit-taking.
Market Outlook
We expect a mixed performance on profit-taking and position-taking as investors take advantage of low prices, ahead of economic data and portfolio managers repositioning for the New Year as the 364-day Treasury Bills rate fell to 5.2%. Also as the market expects 2019 full-year earnings reports as changing sentiments in the hope of improved liquidity and positive economic indices had pushed the market out of the bearish zone.
We see Investors focusing on the upcoming full-year earnings season, targeting companies with strong potential to grow their dividend on the strength of their earnings capacity.
Again, the current undervalued state of the market offers investors opportunities to position for short and medium-to-long-term, which is why investors should target fundamentally sound and dividend-paying stocks for possible capital appreciation as the year winds down, giving way to 2020, just as was noted in the 10 golden stocks and trading ideas for 2020 discussed during the Investdata 2020 Traders & Investors Summit.
Also, traders and investors need to change their strategies owing to NSE's pricing methodology, CBN directives and its impact on the economy in the nearest future.
Meanwhile, the Investdata team welcomes you to a bullish 2020. The home study packs of Invest 2020 Opportunities and Trade Ideas Summit containing the 10 Golden Stocks for 2020 are available. To obtain your pack send 'Yes' or 'Stock' to 08028164085, 08032055467, 08111811223 now.
 Ambrose Omordion
CRO|Investdata Consulting Ltd
info@investdataonline.com
info@investdata.com.ng
ambrose.o@investdataonline.com
ambroseconsultants@yahoo.com
Tel: 08028164085, 08032055467