Chart Patterns- NGXASI Weekly 13-10-23
The NGX sustained its positive outing in the midst of increasing geopolitical tension across the globe, positive September oil production in Nigeria as it recorded it highest output of 1.35mbpd since January 2022 and policy summersaults or adjustment as the CBN lifted embargo on 43 items access to FX at the official windows.
The market has since Wednesday been digesting this decision by the apex bank, because the foreign exchange market has suffered supply hiccups all this while, givven that this policy is likely to pile more pressure on the foreign exchange market. We see this further discouraging local production necessary to drive the much needed econo mic growth, thereby fueling unemployment and insecurity in the nation.
These are part of stock market dynamics that influence sentiments negatively or positively to impact share prices in an up, or down direction, depending on where it swings to. These forces create momentum signals that result from a change in supply and demand by market participants, which equally produce the volume that supports trend during any market cycle.
Understanding these dynamics is crucial for you as an investor while navigating the market and formulating profitable strategies to ensure you stay ahead of this volatile market. Market players are focused on the Q3 earnings reporting season likely to kick-off any moment from now with early fliers hitting the market with their numbers, a situation expected to drive more volatility as companies will be positing surprising and disappointing earnings reports. Reactions to the earnings reports will increase volume of transactions and momentum needed to support stock prices as the market continues in its up or down direction. Let the chart below guide your investment and trading decision.
NGXASI Weekly Chart (Opening)
NGXBNK Weekly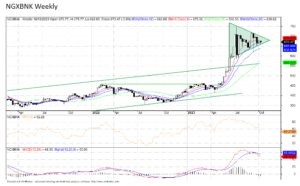 NGXINS Weekly

NGXOIL/GAS Weekly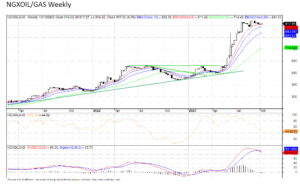 NGX INDUSTRIAL Weekly

NGX CONSUMER GOODS Weekly

NGX 30 Weekly

NGX PENSION Weekly Chart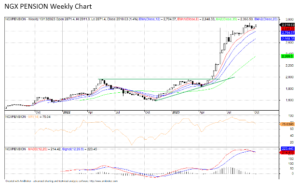 Accesscorp Weekly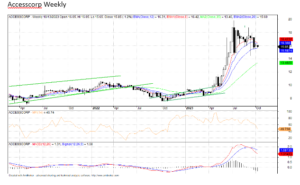 Transcorp Weekly

UBA

OANDO Weekly Chart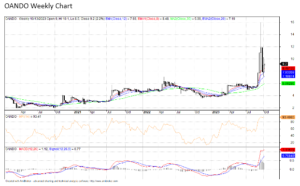 UCAP Weekly Chart

ZENITH BANK Weekly

NAHCO Weekly Chart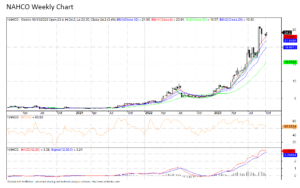 GTCO Weekly

FCMB Weekly

CHAMS Weekly

CHI Plc Weekly