Fixed Income
Sliding Inflation: With No Major Inflow, Inter-bank Rates May Drop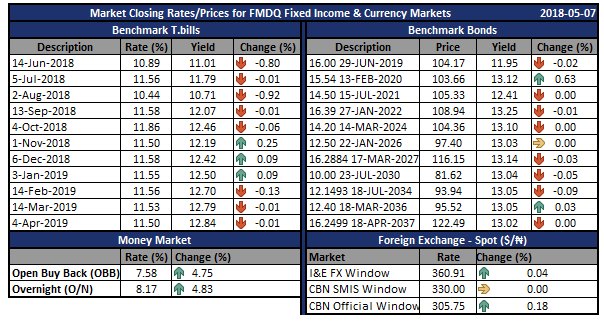 The OBB and Overnight rates in the inter-bank market rose to 7.58% and 8.17% respectively on Monday on the back of system outflows for Wholesale FX interventions by the Central Bank of Nigeria (CBN).
This expectedly squeezed system liquidity, following which market operators and investors expect rates to drop marginally, in the face of no significant funding pressures expected at Tuesday's trading session.
Bond market
The market activities kicked off on a very quiet note as foreign investors remain on the sideline for the holiday.
Market players sold down on some medium maturities. Mixed sentiments is expected on Tuesday, following the speculations on a possible decline in inflation rates when the Consumer Price Index (CPI) is released by the National Bureau of Statistics (NBS) soon which market players are speculate already.
Treasury Bills
The same sentiment persists for the Treasury Bills market which was relatively quiet with slight selloff on short maturities, with expected outflows for wholesale FX
interventions by the CBN. Traders also expect sentiments in the market to remain mixed as market players anticipate another OMO auction on Thursday.