AMCON Debt And The Long Legs Of Political Connection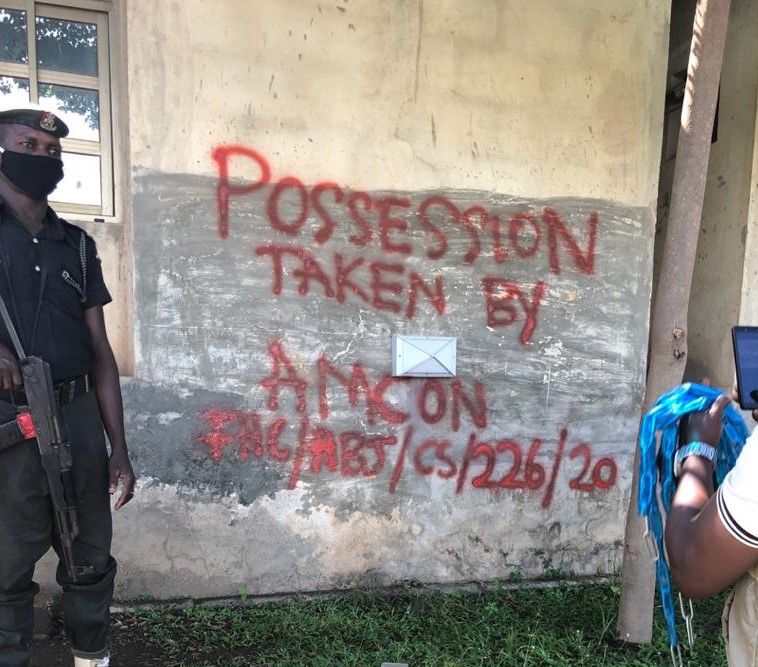 When the Central Bank of Nigeria (CBN) under Lamido Sanusi Lamido (the former Emir of Kano) mooted the idea of the Asset Management Corporation of Nigeria (AMCON), it was supposed to have a 10-year lifespan. By every calculation, therefore, it ought to have faded this year.
This cannot, however, happen given the significant size of its outstanding obligations, following which many Nigerians are worried that the corporation could just become just another parastatal of the federal government, seemingly existing in perpetuity.
But the management of AMCON says its progress is being retarded by bad and recalcitrant debtors, particularly politically exposed persons like top politicians, public servants, their friends and business partners. These people, the corporation cried out in the past, had taken advantage of loopholes in the enabling Act to evade payment of these loans, waiting for the end of its 10-year lifespan which was some months ago.
Realizing these loopholes, there has been the 2015 amendment, followed by another, last year, which spells bad news for such debtors.
These high-profile debtors, according to Ahmed Kuru, chief executive of AMCON, include Senators (serving and past), Ministers, and party chieftains, who deliberately frustrate the loan recovery efforts.
Of the over N5tr outstanding debt obligations, according to Jude Nwauzor, spokesman of the corporation, over 80% of the entire Eligible Bank Asset (EBA) portfolio is owed by about 350 obligors.
Addressing a two-day Annual Seminar for Justices of the Courts of Appeal, in Abuja, Kuru, said a breakdown of the outstanding showed that N4tr of the amount is owed to the Central Bank of Nigeria (CBN). He fears that the outstanding obligation of AMCON could spike by as much as 75% to N7tr by 2024. Averting the danger of this debt becoming part of the Federal Government debt portfolio, being (the sovereign guarantor of the bond) to be borne by taxpayers, he said required the urgent collaboration of all stakeholders. Specifically, he called for partnership among federal agencies to ensure that economic saboteurs do not get away with bad behaviour of not settling their loan obligations.
FG Also Concerned
The Federal Government says it is equally worried at the turn of events, as shown in last year's inauguration of the inter-agency committee by Vice President Yemi Osinbajo, to speedily resolve the challenges militating against the recovery process. The committee, led by Prof. Bolaji Owasanoye, Chairman, Independent Corrupt Practices and other related offences Commission (ICPC), was expected to, among others, review the current status of AMCON debts, deliberate on practical, legal and other strategies for its recovery, and prepare a report, which will include a debt recovery work plan with specific timelines for completion.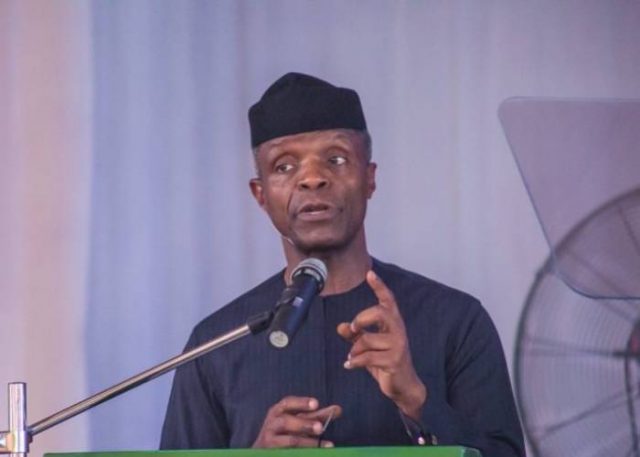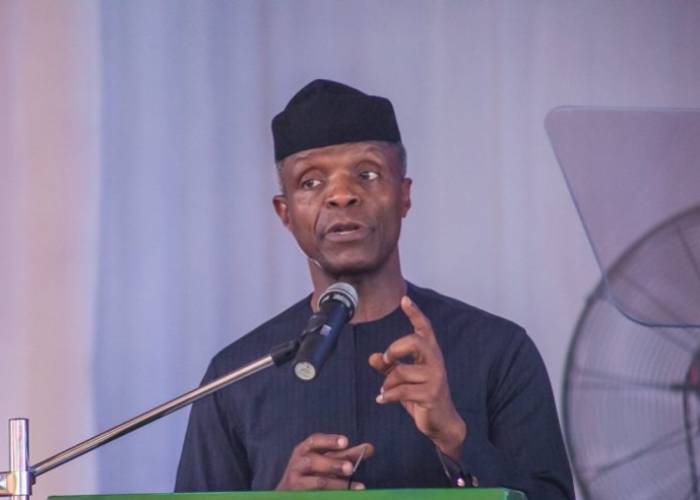 Prof. Osinbajo had lamented that 67% of the AMCON debt is owed by just 20 individuals/entities, urging the members drawn from AMCON, the Economic and Financial Crimes Commission (EFCC), Nigerian Financial Intelligence Unit (NFIU), the ICPC, Central Bank of Nigeria (CBN), Nigeria Deposit Insurance Corporation (NDIC), and the Federal Ministry of Justice, to consider other options, including taking enforcement measures, to ensure recovery of the debts.
2019 Amendment
While theMay 25, 2015 amendment significantly addressed a lot of the shortcomings in the enabling Act, it is however not clear whether the work of the Owasanoye Committee was instrumental to the second amendment of the AMCON Act, to help the corporation achieve the purpose for which it was established.
The amendment removed the veil of protection guaranteed in bank-customer privacy, giving the corporation power to dig into the financial details of debtors, such that it can now track funds belonging to identified recalcitrant debtors. Other key pillars include naming and shaming; even as only persons not on the AMCON 'black-book' can henceforth secure government contracts.
The amended Act equally empowers the corporation to hold banks that sold the bad loans liable, giving it teeth to claw back rights, besides the power to checkmate debtors who may seek to employ legal gymnastics and technicalities to frustrate recovery.
Others include ensuring accelerated hearing and determination of AMCON cases, enhancing AMCON's rights over collaterals securing EBAs from security interest to legal title; fine-tuning AMCON's special powers, as well as prescribing a sunset date.
Justifying this additional power enshrined in the latest amendment, Kuru stressed that if these debt are not recovered, "the implication is that the general public will be made to pay for the recklessness of only a few individuals who continue to take advantage of the loopholes in our laws to escape their moral and legal obligations to repay their debts. We should not allow a few individuals to escape with our commonwealth. And we want to do it within the confines of the law."
Justice Mojisola Olatoregun of the Federal High Court, Lagos Division, wants AMCON to take the recovery battle further by producing a comprehensive database. With this, she says AMCON's lawyers should obtain court orders stopping recalcitrant obligor-candidates from running for any election in the country, given the calibre of debtors,
At The Beginning
The corporation was created by the AMCON Act No. 4, of July 19, 2010, as a vehicle for the purchase the huge Non-Performing Loans (NPLs) owed by /oil and gas, as well as capital market (margin facilities) operators, following which the banks abandoned their roles of financial intermediation, coming mere debt collectors.
But for the intervention at the time, according to the proponents, Nigerian depositors would have lost N3.7tr; and over 15,000 jobs lost. Also, approximately 12,743 bank loans were purchased through debt instruments worth N3.9tr, based on the simple understanding that the loans would be recovered either through voluntary payments, or disposal of assets pledged by the obligors.
But over the years, it was believed at the time too that the corporation constituted a systemic risk to the Exchange, given its shareholding in many companies whose shares were publicly traded. The shares were mostly pledged as collateral for loans. For example, AMCON held 58.97% of Union Bank of Nigeria Plc shares, once upon a time, according to the bank's 2011 audited accounts.
Explaining how AMCON became a shareholder of companies listed on the NSE, Mustafa Chike-Obi, the maiden chief executive of AMCON, was quoted in the media as saying the corporation still had shares worth over N100bn in Deposit Money Banks and other companies as of 2015.
He listed some banks with AMCON interests to include Access Bank Plc, Diamond Bank Plc, Sterling Bank Plc, Unity Bank Plc, and Wema Bank Plc, assuring that AMCON would sell those shares "as soon as it is practicable."
Many of these holdings, Garba Kassimu Kurfi, a senior stockbroker and chief executive of APT Funds and Securities Ltd, have been sold down and now in the region of between one and four percent stakes. This, he said, explains why these stakes may not reflect in their books, because has he told Investdata News, quoted companies are only statutorily required to disclose shareholdings of five percent or more.
A Showroom of Assets
There are also shares of several unquoted companies- oil and gas, telecoms, manufacturing, airlines, and jetties sitting in its books, in addition to properties of all shapes and sizes littered across the country.
Recalcitrant Debtors
Some of the corporation's biggest debtors who could lighten its burden by repaying their loans, Jude Nwauzor, its spokesman, told Investdata News last week, include Capital Oil & Gas Limited, owned by Senator Ifeanyi Ubah, representing Anambra South zone in the Nigerian Senate, who owes N115.952bn; and Bi-Courtney Group, promoted by Dr. Wale Babalakin, a Senior Advocate of Nigeria (SAN) and immediate past Pro-Chancellor of the Federal Government-owned University of Lagos, said to owe N119bn. Sir Arumemi Johnson-Ikhide appears on the list in three separate capacities as promoter/director of Rockson Engineering Int'l Sir Arumemi Johnson-Ikhide, Arik Air, and Ojemai Farms, while Barrister Jimoh Ibrahim who completes the prime list continues to dispute the N59.544bn debt linked to his NICON Investment.
Aside from shareholding in public companies on the NSE, including blue-chips, AMCON is today the owner of Aero Contractors, Nigeria's oldest private airline.
Companies whose assets were taken over recently by AMCON include: Pan Ocean, had its Lagos head office and Oil Mining Licences were seized over its N240bn debt to the corporation. Other choice assets now in the corporation's portfolio include Cedar Oil & Gas Exploration and Production Limited, belonging to Jide Omokore, reportedly owing over N29bn.
Way Forward
Alhaji Gbadebo Olatokunbo, shareholder activist agrees that it would be unfair allowing bad debtors to escape repaying their loans while waiting for AMCON to wind down, instead of honorably fulfilling their obligations.
While urging Nigerians not to support indiscipline, he lamented occasions where "genuine investors could not access bank funds, while bank directors, management, their associates and friends, got these loans with or without collaterals, and no intention of repaying.
Gbadebo wonders why people are seeking to kill, or stampede AMCON off the scene when its mission is yet unaccomplished. His prayer: "l hope they never succeed."
On the issue of politically exposed obligors in the country, legal consultant and Senior Partner, Olaniwun Ajayi -LP, Muyiwa Balogun, wants AMCON lawyers to explore a provision of the amended Act to declare debtor-public officeholders bankrupt.
He told participants at a recent seminar for judges: "once you are declared bankrupt, you cannot hold public office. Today, we have AMCON debtors making laws for the Federal Republic of Nigeria. AMCON with your support needs to go to court and declare such individuals bankrupt."
Urging AMCON lawyers to become more proactive, by testing the provisions of the amended Act relating to bankruptcy proceedings as have been explored in other climes to address similar matters, "let us test the bankruptcy proceedings.
"In other jurisdictions, this has proved to be a very potent tool, and why not in Nigeria," he wondered.
That may just be what Olisa Agbakoba, a Senior Advocate of Nigeria (SAN), meant when in answer to a question by Investdata News at a forum organized by the Finance Correspondents Association of Nigeria (FICAN), last week in Lagos, advised AMCON to "think through some revolutionary ways of debt collection." To him, the current tools of collection are old.
The corporation has listed high profile individuals known to the government among its bad debtors, months ago, the Presidency may wish to tell Nigerians what has been done to serve as a deterrent?
There seem more questions than answers concerning the present and future of AMCON, even if the past is glossed over. One of such worry is about the ability of the corporation to run the companies and assets it has taken over profitably, so as to successfully realize its huge debts. One other question on the street is whether the corporation can truly be considered a midwife or an undertaker.
It is also necessary for the board to present the 2019 audited financials before the end of 2020, and ensure others are available on its website, such that the corporation is seen to be transparent. This is given the scant information, for example, about its stake in public companies, particularly those publicly traded on the Nigerian Stock Exchange (NSE).
Given the change in its sunset date, it is important that AMCON does not perpetuate itself by becoming another permanent parastatal, shifting from the intention of its founders as a temporary entity to resolve the bad debt problem of banks and thereafter fade away.
But beyond the letters of its enabling Act as amended, and in an environment where political will depends on the proverbial "body language" of the President, and the penchant of government to establish committees to tell it what next to do, full recovery of these loans may just be a long, lonely and bumpy road for AMCON.
This research/investigation/story was supported by the U.S Embassy via the ATUPA Fellowship by Civic Hive.